Episodes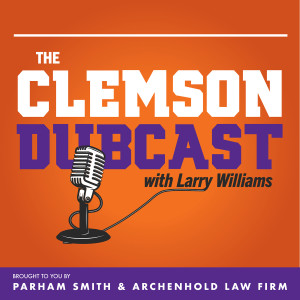 Thursday Dec 01, 2022
Thursday Dec 01, 2022
When Jacoby Ford was trying to get back into the NFL, Dabo Swinney wrote personal letters on his behalf to the general managers of every league team.
Ford remains close with Swinney and Clemson's football program. In October the former football and track star was inducted into the school's athletics Hall of Fame.
Ford, now coaching at his old high school in South Florida, has many thoughts about the current state of Clemson football.
With the playoff now off the table, he thinks the offensive staff should play both DJ Uiagalelei and Cade Klubnik.
With so few playmakers on the outside, he thinks the staff should do a better job of finding receiver prospects in the state of Florida.
Ford maintains that Clemson football is going to be just fine in the future, that the Dabo dynasty is not over as some claim. But in the short term, he does question some of the decisions made in last week's loss to South Carolina.
"Will Shipley and Phil Mafah are our best players," he said. "We need to feed them the ball."
Ford, who played at Clemson from 2006 to 2009 and spent four seasons in the NFL, said he doesn't have much interest in coaching at the college level. He said he would return to Clemson to help the Tigers' recruiting operation if that opportunity came about.