Episodes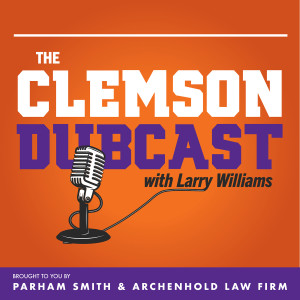 Friday Feb 10, 2023
Friday Feb 10, 2023
J.C. Harper remembers growing up in Clemson as the son of iconic assistant coach Tom Harper, the architect of the Tigers' rampaging defensive lines in the 1980s.
At Daniel High School, J.C. attracted attention from recruiters and Georgia's Vince Dooley began appearing at his games. After committing to the Bulldogs, J.C. braced himself for his father's reaction.
"Son, did you commit to Georgia?"
"Yes sir."
"Why?"
"Because Coach Dooley came to two of my games."
"Son, I came to all of your games."
"But you're my dad. You're supposed to do that."
J.C. ended up switching to Clemson after a long car ride with Danny Ford, and all these years later he still treasures his memories from those days.
He also has a connection with current Clemson offensive coordinator Garrett Riley, a quarterback who transferred to Stephen F. Austin when J.C. was the head coach of the Lumberjacks.
Riley helped Harper install the Air Raid offense that Mike Leach popularized at nearby Texas Tech.
Harper has been out of coaching for the better part of a decade, but he still loves talking about the old days that include stints as an assistant under Lou Holtz at Notre Dame and Mack Brown at North Carolina.
Harper lives in Lake Charles, La., with his family and works in real estate.