Episodes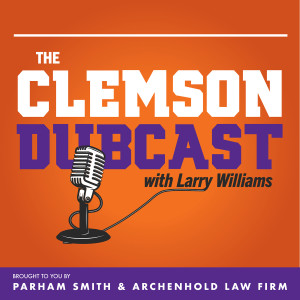 Sunday Oct 02, 2022
Sunday Oct 02, 2022
What is Dave Doeren really like?
Is he as much of a jerk as Clemson fans like to think?
Joe Giglio has covered N.C. State since Doeren's arrival in late 2012 and says the coach hasn't been easy to get to know during his long tenure in Raleigh.
Giglio, formerly a longtime newspaper guy who is currently a radio talk-show host and contributor to WRAL TV, joined the podcast on the drive home from Clemson to talk about what Clemson's convincing victory meant for Doeren and the Wolfpack.
A passage from the column Giglio wrote from Death Valley late Saturday night:
While winning is in Clemson's DNA, NC State's double helix is laced with wasted shots and what-could-have-beens. Much of the '21 State team, which finished 9-3 overall and 6-2 in the ACC, came back for one more crack at the elusive ACC crown.
The two main players that didn't — All-American left tackle Ickey Ekwonu and receiver Emeka Emezie — are proving to be a huge void to fill.
Clemson's defensive front, even without injured star Bryan Bresee, dominated the Wolfpack blockers on Saturday night.
"They won the line of scrimmage," NC State coach Dave Doeren said. "Their D-line played really good."
The Tigers also got a bounce here and made a break there. That's what good teams do. Dabo Swinney's coaching staff has changed but the concepts remain solid.
The basic premise — ride your stars, die with your fastball — remains as true as the ride down Route 76 into town is long and filled with radar guns.