Episodes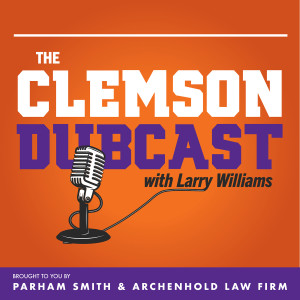 Wednesday Nov 23, 2022
Wednesday Nov 23, 2022
Nolan Turner, back in Clemson last week during Tampa Bay's open date, was able to take part in the Tigers' tailgating experience for the first time as he went to the Miami game as a fan with James Skalski and others.
Turner sits down for an extended interview to talk his remarkable life story, the impact and legacy of his late father Kevin, and what it's been like sharing a locker room with Tom Brady.
Turner said Brady has an aura that's similar to that of Deshaun Watson back in the summer of 2016 when Turner arrived at Clemson and was star-struck looking around the locker room at Watson and others who had pushed Alabama to the limit in the previous season's national championship game.
During this year's preseason practice in Tampa, Turner was on the field with backups going through the normal routine when he looked up and saw No. 12 behind center.
Turner's reaction: "Oh s---. That's Tom Brady."
Not long thereafter, Turner intercepted Brady.
His reaction: "Oh s---. I just intercepted Tom Brady."