Episodes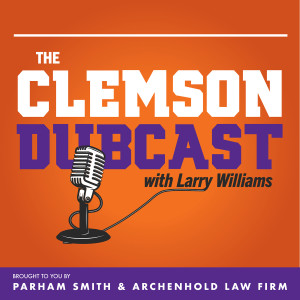 Wednesday Feb 08, 2023
Wednesday Feb 08, 2023
Ron Green Jr. doesn't need an introduction to Michael Jordan. He covered Jordan as a writer for the student newspaper at North Carolina when Jordan was in Chapel Hill.
Green has been around a long time -- long enough to have covered Danny Ford during Clemson's first golden era, to have developed a relationship with Tiger Woods, and to have played golf with Donald Trump long before Trump became President.
"He picked up a five-foot putt and said it was a gimme," Green said. "I said: 'You know I've never seen you miss one of those. I've also never seen you putt one of those.'"
Green, one of the great sportswriting stylists of the newspaper era, has managed to continue making a living after leaving The Charlotte Observer 11 years ago.
He travels the world as a writer for the Global Golf Post. At the upcoming Masters Tournament, he will receive the PGA of America's Lifetime Achievement Award in Journalism.
Green is the 32nd recipient of the award. His 93-year-old father, Ron Green Sr., won the award in 2006 for his own golf coverage and was a longtime Observer sports columnist. They are the first father-son duo to separately win the award.
Green Jr., 66, worked at The Charlotte Observer for 23 years. He got to know Ford, Clemson's legendary coach, while working in Greenville as a sportswriter covering the Tigers in the 1980s.
Green Jr. says he dearly misses covering big college football and basketball games in the ACC, but he wonders where college sports is headed in the age of NIL and the transfer portal.
Green Jr. still covers about 15 pro golf tournaments per year. He has covered about 100 of golf's majors, including 41 Masters tournaments.