Episodes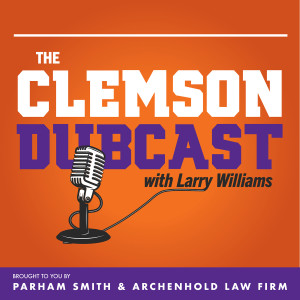 Friday Feb 17, 2023
Friday Feb 17, 2023
A few weeks before Clemson's 2003 baseball season began, a group of students sat in their apartment and one of the guys was skimming classified ads looking for interesting things for sale.
He came across this ad:
"Bus. $400 with spare engine."
The idea was hatched to buy the bus and turn it into a tailgating machine.
Twenty years later, the bus is a fixture beyond the right-field fence at Doug Kingsmore Stadium.
Garrett Edens, president of The Cheap Seats, joins the podcast to dig into the rollicking, irreverent, passionate history of the people who have made this a ritual during every home baseball weekend.
They stand on top of a bus and drink beer, talk good-natured smack to opposing outfielders, and watch every pitch in every game featuring their beloved Tigers.
Some people view sporting events as a social event, taking occasional glances at the action unfolding on the field. The inhabitants of The Cheap Seats are the purists.
Athletics departments spend a lot of time and money trying to create magnetic home-field atmospheres. But sometimes, vital features of extraordinary game-day settings are not manufactured and occur organically. They gradually build attachment and magnetism by doing the same thing year after year after year, to the point that the people involved can't imagine doing it any other way -- and the people watching from afar can't imagine a Clemson baseball setting without The Cheap Seats.