Episodes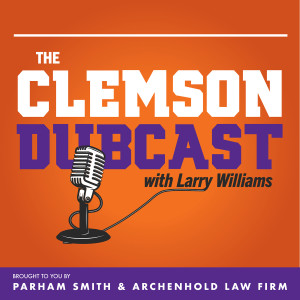 Thursday Sep 29, 2022
Thursday Sep 29, 2022
Tye Hill watched every bit of last week's double-overtime victory over Wake Forest.
He's a hardcore Clemson fan. And, as a former cornerback in college and in the NFL, he pays close attention to his old position.
Hill, who lives in the Atlanta area with his family, joins the podcast and goes deep on proper coverage technique.
He was as frustrated as any Clemson fan with all the penalties drawn and catches allowed, but he says he's optimistic about what the scorching trial by fire will mean to this group of corners moving forward.
Hill remembers his own trial by fire in 2003 when he moved to corner from running back and found himself covering a bunch of imposing, talented receivers every day in practice.
Hill explores how much offensive football has changed in the last decade-plus, and how much harder that makes it for defenses to adjust.
He also shares what he's up to these days, and how he satisfies the competitive urges that can no longer be quenched by playing football.