Episodes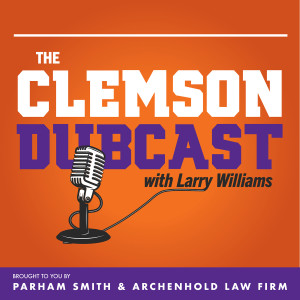 Friday Nov 04, 2022
Friday Nov 04, 2022
In 2012, Tyler Venables and his brother Jake moved to a strange and different new world when they left Norman for Clemson upon their father becoming the Tigers' defensive coordinator.
A decade later, Tyler's sisters are going through the exact same experience in Norman after leaving the place they knew as home when Brent Venables went back to Oklahoma to be head coach.
Tyler, a junior safety for Clemson, reflects on the devastating 24-hour period in 2011 that ended up playing a major role in Brent leaving his comfort zone in Norman and doing something completely new and different with Dabo Swinney.
Tyler was only 10 at the time when Oklahoma linebacker Austin Box and Brent's brother Kirk died within a day of each other. He was too young to grasp the magnitude of it in the moment, but as an adult he still has trouble holding it together as he reflects on that immensely difficult period for his father and the family.
After Brent left for Oklahoma last December, Tyler surprised everyone and maybe even himself when he opted to remain at Clemson. He stayed because of his love for Swinney and his attachment to the holistic culture he has built over the years.
When Brent turned down the Auburn job in 2020, Tyler thought that sealed his future.
"I thought at the time: 'He's going to retire as a defensive coordinator,'" he said.
A year later, Lincoln Riley shocked the college football world by leaving for Southern Cal. And soon thereafter, Tyler's father was presented with the opportunity of a lifetime.